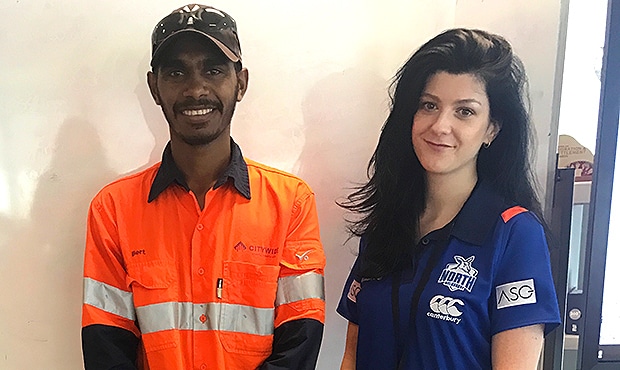 Shy and quiet, but quick to smile, there was something that stood out about Jai Nudjamerrek.
The indigenous 21-year-old had recently relocated from Darwin, and immediately caught the eye of The Huddle's youth recruitment & field officer, Noura Hachem.
"What really drew me to Jai, was the feeling I got from him of being lost in a new place," Hachem said.
No stranger to those feelings herself, after arriving having from Damascus, Syria in 2013, Hachem felt an immediate connection to Jai, partly because of his quiet determination, but mostly because he simply needed some guidance.
"I knew that he needed a hand to help him, I also knew that I had to be that hand," Hachem recalled.
From an early age, Nudjamerrek knew he wanted a career that allowed him plenty of time in the great outdoors. The thought of being stuck at a desk for eight-hours-a-day was something that never appealed to him.
"He would light up when speaking about being in nature, but when he mentioned the words 'office job' he would immediately get gloomy," Hachem recalled.
After he finished year 12; an accomplishment achieved by less than two thirds of students in the Northern Territory, Nudjamerrek was employed in a mine. Later he became a park ranger which involved varying tasks including land preservation, wildfire management and even pest control.
"I loved working as a ranger," Nudjamerrek said.
"I got to fly in helicopters, and be outside. It was an amazing experience."
In 2017, he moved to Victoria to be with his sister and was introduced to the Huddle by his brother-in-law.
"The hardest part of moving to Melbourne is getting used to the city and all the traffic," he said.
There, he met Hachem.
"I knew all about his studies, immense experiences, and number of certificates," Hachem said.
The pair worked closely on a range of areas including interviewing skills, job preparation and resume building. This work led to an introduction to one of The Huddle's many partners, Citywide.
So impressed by Nudjamerrek, Citywide offered him a job interview.
"Jai wanted to practice every possible scenario," Hachem said.
"Seated interviews, entering the interview, shaking hands, eye contact … every detail he wanted to have perfect."
The preparation paid off and minutes after the interview was over, Hachem received word from Nudjamerrek who said, "I think I did good, thanks for helping me."
Nudjamerrek's instincts were right; he got the job as a member of the Parks Maintenance Team and started work last Monday.
"This is the happiest I've seen him," Hachem commented.
Jai moved to Melbourne 8 months ago, and wanted a job that was stimulating and allowed him to work outside.

Check out this awesome video by #JobsVictoria to see where he ended up.... @Brotherhoodinfo @CitywideAus @VicGovAu pic.twitter.com/Kylh2104vR

— The Huddle (@HuddleNMFC) July 24, 2018