From haircuts to facial hair and even fresh tattoos, there are plenty of new looks to be spotted on the training track at this time of year.
But it's Paul Ahern's physical transformation that has caught the eyes of many as he continues to reap the rewards of his first full pre-season in four years.
A dramatically thinner Ahern says although the new-look physique is nice, shedding the kilos wasn't a priority heading into 2019.
"I think the main focus over the summer has been to get fitter; It wasn't so much about losing weight, but that comes with doing the extra running," Ahern told North Media.
"Doing the little things like extra cross-trainer sessions and things like that help.
"When I went to Utah in the off-season, I think that really helped to get a bit of a headstart and get the body ready to crack into pre-season."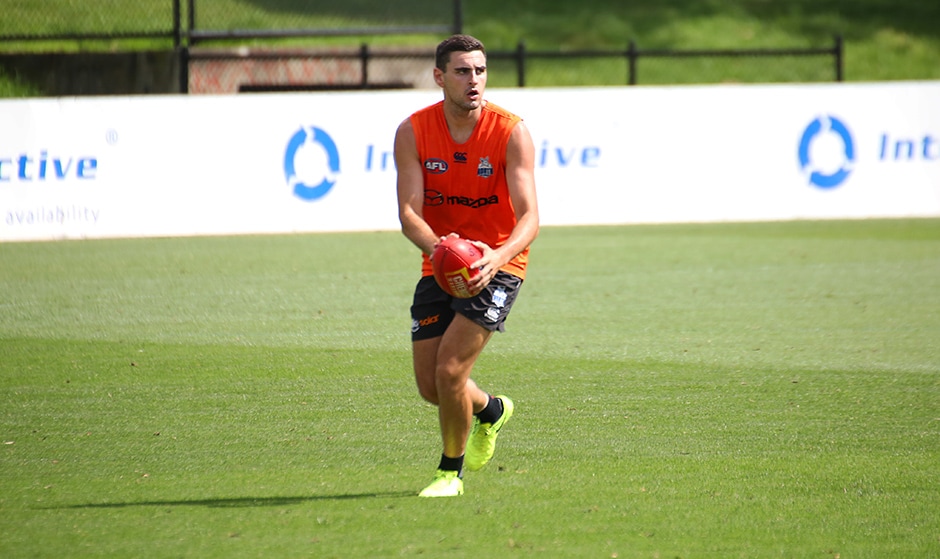 Paul Ahern in action during match simulation.
Debuting in Round 11 last year, the young midfielder quickly made a name for himself amongst the AFL fraternity, with his balance and elite disposal a highlight.
Despite collecting a career-high 37 disposals against the eventual premiers in Round 19, the 22-year-old knew he couldn't afford to rest on his laurels.
"I felt I had to build that fitness base to take that next step in my career," Ahern said.
"Speaking to the coaches in my exit meeting last year, the main focus was just getting fitter, not just so I could run out games, but so I could attack games in the fourth quarter and use by burst of speed under fatigue."
Continuity in his training loads this summer, after spending the past two years sidelined with knee injuries, has been a catalyst for his change.
"When you're in rehab, you miss a session here and there and you're not running as much, so being out there and being able to train every session was probably the big thing that really helped me," he said.
Currently weighing in at 82.5 kilos, over four kilos lighter than he was this time last year, Ahern feels he's already benefiting from the hard work in the recent match simulations.
"I'm feeling good," he said.
"I'm obviously a few kilos lighter now, and I can really feel the difference in my running. I'm able to get to contests more frequently than I was in the past, which helps me attack the game more."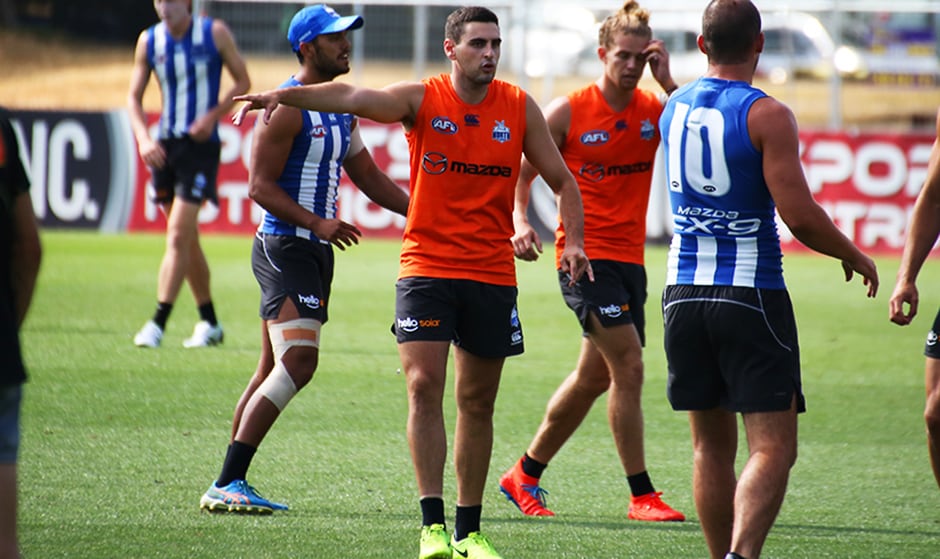 Paul Ahern says his slimmer frame has allowed to get to more contests more frequently.
Ahern, a midfielder who is tough in the contest and benefited from his strong core, says although he's trimmed down this summer, he's put a focus into maintaining his strength.
"I haven't lost anything in the gym," he said.
"I've followed my gym plan, and for me, that's still just as important as my running plan. I want to have that balance.
"I don't want to lose any strength, but I still want to be able to run out games as well, so finding that mix is the main thing for me."
Off the back of an impressive end to the year, in which he became a staple in North's midfield brigade, Ahern is hoping to use his solid pre-season as a springboard to tackle the upcoming year.
"I'd like to cement a spot in the best 22, but I'm looking to play consistent footy throughout the year and just keeping working on my weaknesses to turn them into strengths," he added.