As Australia celebrates National Volunteer Week, we are profiling the amazing work of The Huddle volunteers.
Daniel Sammut, Huddle Volunteer
What do you do when you are not at The Huddle?
I work for AFL Victoria in their Community and Engagement areas. My focus is on getting people involved in the sport for enjoyment, participation and personal growth! I also coach other sports including basketball and soccer, and even play socially in both too, so you could call me a sports freak!
Why did you choose to volunteer at The Huddle?
It was during 2014, when I was an intern at the Carlton Football Club, that I had the opportunity to work with The Huddle in programs aimed at English Language Schools. Since then, I have always been intrigued on what The Huddle does, and its positive impact in the North Melbourne community and beyond. I had to get involved, myself. I am glad that I did!
What's your favourite thing about The Huddle?
One of the most rewarding things to see through The Huddle is the engagement from many participants through the various programs, and how it makes us, as volunteers, feel extremely valued and important. Meeting new people and making the friendships along the way makes me feel very proud to be part of it!
If you could choose to do anything for a day, what would it be?
Such a tough question, but if I could choose absolutely anything, it would be to travel to Europe to see my family in Malta. It has been too long!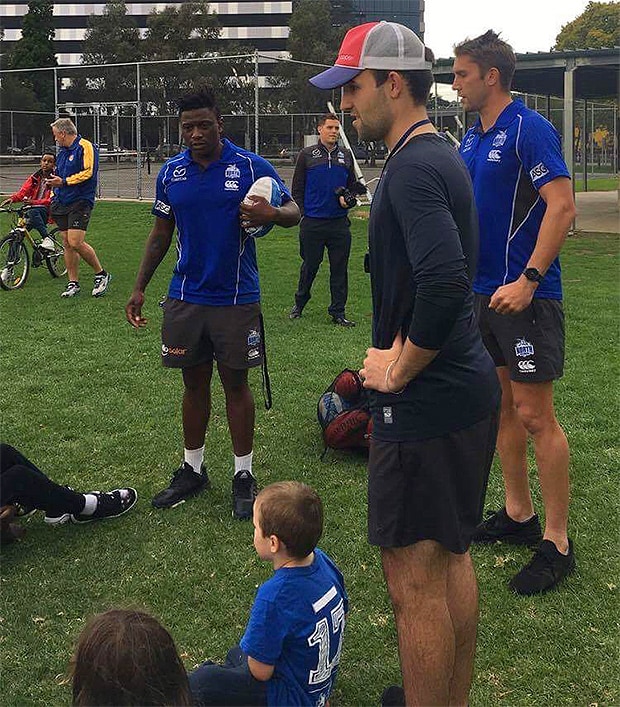 Daniel volunteering at Kanga's First Kick.