Robbie Tarrant's standout season has been rewarded, with the defender taking home the prestigious Syd Barker Medal on Friday night.
Tarrant was named the club's best and fairest with 263 votes, ahead of Jack Ziebell (257) in second place and Sam Gibson in third (234).
In front of more than 900 people at the club's night-of-nights at Peninsula on Central Pier, Tarrant also won the Jason McCartney Award, presented to the player who epitomises the values, strength and courage that Jason used to return to the game he loved.
North coach Brad Scott said Tarrant was a worthy winner.
"Robbie has been a rock in defence," Scott said.
"Week-in, week-out, we knew exactly what to expect from Robbie and he was an influential member of our line up all year, taking on and beating some of the best forwards in the country nearly every week."
Tarrant was named in the All Australian squad this season, and according to most experts was unlucky to miss out on a place in the final side.
Ziebell finished just six votes behind Tarrant after another impressive season from the vice-captain. Ziebell played in all 23 of North's games this year, averaging 22 disposals and five tackles. He also booted 18 goals throughout the year. His pressure was again first class, with the 25-year-old amassing a then-world record equalling 19 tackles in Round 3 against Melbourne.
Gibson's consistent season in the royal blue and white saw him finish in third. Gibson also played in every game for the Roos, averaging 23 disposals, with his trademark run and carry an important part of North's success throughout the year. Gibson was also a threat up forward, kicking 13 goals in 2016.
The club also paid tribute to its four departing champions at the annual club champion dinner, as Brent Harvey, Drew Petrie, Michael Firrito and Nick Dal Santo said their final farewells on an emotional night for the club.
Meanwhile, young gun Ryan Clarke was named the club's Best Young Player for 2016.
Clarke played in six games for the Roos in the latter half of the year after impressing for Werribee at VFL level in his first season at Arden St. He was drafted to North at the end of 2015 with pick 31 in the NAB National Draft.
Jamie Macmillan received the Harold Henderson Best Clubman Award for his commitment to North Melbourne. Macmillan was a part of the Roos leadership group for the second consecutive year.
Ed Vickers-Willis' commitment to community, in particular the club's not-for-profit arm The Huddle, saw him take home the Peter Scanlon Community Award. Vickers-Willis spends countless hours in his own time working with young students as part of The Huddle's Study Support program.
Recognising their service to the club, Lachlan Hansen, Lindsay Thomas and philanthropist Peter Scanlon were awarded Life Membership to North Melbourne Football Club.
List of 2016 winners
Syd Barker Medal: Robbie Tarrant
McCartney Award: Robbie Tarrant
Best Young Player: Ryan Clarke
Peter Scanlon Community Award: Ed Vickers-Willis
Harold Henderson Best Clubman: Jamie Macmillan
Mazda Spirit Award (fan/member vote): Jack Ziebell
Life membership: Lachlan Hansen, Lindsay Thomas and Peter Scanlon
Syd Barker Medal Leaderboard
1. Robbie Tarrant – 263 votes
2. Jack Ziebell – 257 votes
3. Sam Gibson – 234 votes
4. Daniel Wells – 221 votes
5. Brent Harvey – 217 votes
6. Jamie Macmillan – 213 votes
7. Nick Dal Santo – 210 votes
8. Ben Cunnington – 207 votes
9. Andrew Swallow – 192 votes
10. Ben Brown – 181 votes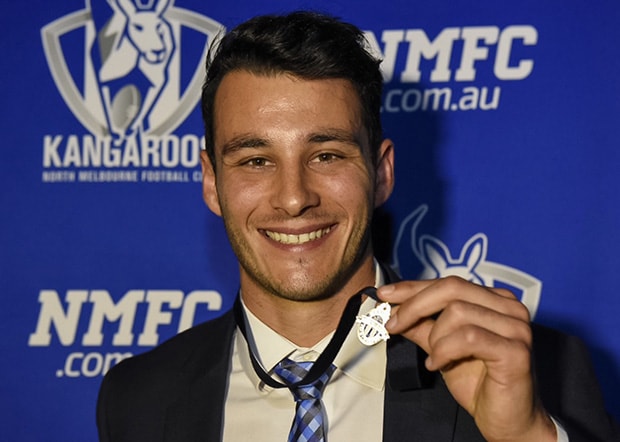 Photo: Tim Mullane - Sustainable Image