For Luke McDonald, the last few weeks have been a flashback to his junior career.
After spending the majority of his AFL career playing in the defensive half, a shift to the wing and half-forward has paid dividends.
No Roo has had more inside 50's over the last fortnight than McDonald's 14, the move further up the field one he's been enjoying.
"It's been something we've talked about for a long time," McDonald told NMFC.com.au.
"I played the first three years in the half back line and earlier in the year I was there as well. Then I got moved onto the wing and a bit half-forward, I'm absolutely loving it.
"It's been really fun, it's been good."
While joking the decision was made to move further forward 'when (Mark) LeCras kicked three on me in five minutes', McDonald's time as a defender has built a solid foundation to his play.
"In the juniors I was always in the midfield or playing around the forward line, it's definitely really natural," he said.
"It was good to transition to the backline and learn a lot about defending and all those sorts of things, and to get my body ready to push up the ground.
"I've been patient but it's been good playing on the wing and I don't mind going back either, I'll play wherever.
"But in saying that I loved playing with the backs, you're a team within a team."
The lessons learned from those first three seasons spent as a half-back haven't left McDonald.
"It gives you that defensive mindset and if you ever need to roll back or play anywhere it gives you that flexibility to play anywhere on the field," he said.
"I've absolutely loved playing there but I'm obviously really excited to be up the field.
"It's been awesome fun the last few weeks and hopefully I can stay around there. I love sneaking up forward."
McDonald's long-range bomb from the centre square against the Suns brought about jubilant celebrations from the 22-year-old.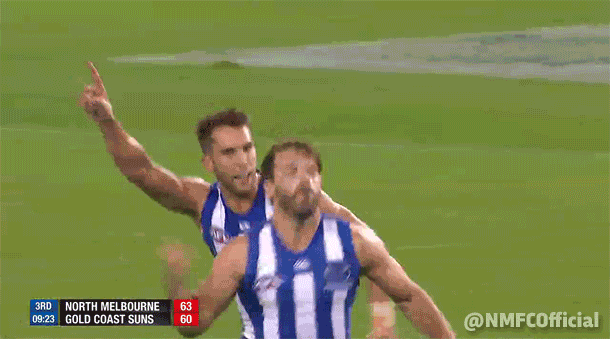 It's become a feature of his game when he does manage to hit the scoreboard, and something he's well aware of.
"Other than winning, goals is certainly what I enjoy the most," McDonald said laughing.
"I love giving it a bit too much probably when I kick a snag. I love going up forward and you're closer to the lads to celebrate so you can celebrate goals more as well."
With the wind that normally accompanies games at Blundstone Arena, there's every chance McDonald may be in range for another goal from distance on Saturday.
"There's been a bit of carry on this week," McDonald said.
"Usually when I'm within 70 I'll point to the goals and tell the boys I'm going, when they already know I'm going for the goals so I don't even need to point."
The undefeated Crows present arguably North's biggest challenge of the season so far.
Nevertheless, the Roos are going to Hobart with confidence in what can be done at their home away from home.
"They've been super," McDonald said of the Crows.
"They've got a really potent forward line, their mids are playing well and the defence is playing well, so all over they're playing well.
"We're really excited at the challenge to play these boys and play them on our home deck in Hobart where we usually go really well.
"We're not going to take any backward steps."